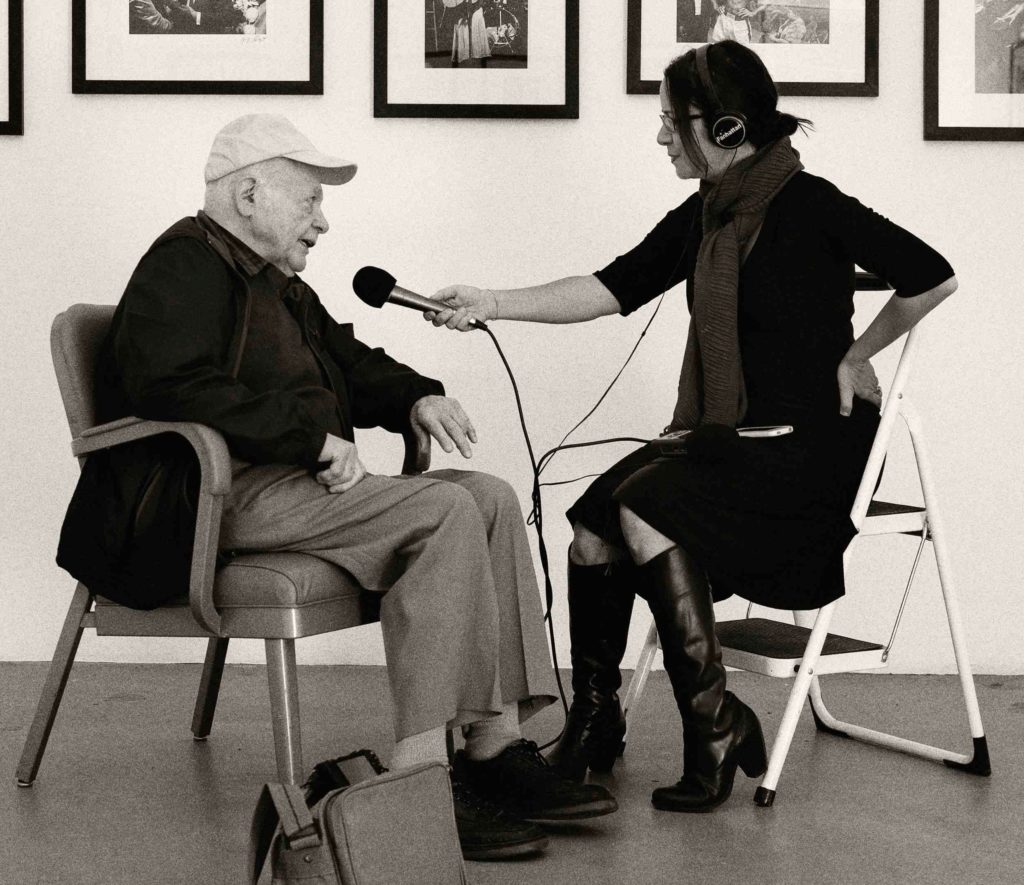 Art Shay talks to Lisa Napoli for KCRW at drkrm, 2013, by Andy Romanoff
Born and raised in Brooklyn, New York, Lisa Napoli has lived in the mysterious, strange and wonderful foreign land of downtown Los Angeles since 2004, where there's hardly been a dull moment.
In over three decades as a journalist, she's covered presidential campaigns, a hostage standoff, an outdoor hacker convention and the culture of technology, all at a wide variety of news outlets (some which no longer exist) including the New York Times CyberTimes, MSNBC, and the public radio show Marketplace. For five years, she also covered arts and culture at KCRW. She no longer hosts her weekly Friday parties.
She's directed two video documentaries, one on the kitsch tourist trap in Dillon, South Carolina called South of the Border and the other about NASCAR fans called Day at the Races. She also loves to conduct long-form interviews in front of live audiences, which includes chats with Terry McMillan, Pico Iyer, Naomi Shihab Nye, Seth Godin, Sheryl Wu-Dunn, Deepak Chopra, Gretchen Rubin, Freakonomics duo at venues like Aspen Institute, Rubin Museum, Rautenstrauch-Joest Museum, Skirball Cultural Center, UCLA and Live Talks LA.
Her first book, Radio Shangri-La, is about the impact of media culture on the mysterious Kingdom of Bhutan, where she was invited to help start a radio station at the dawn of democratic rule. Her second book is titled Ray & Joan, about the late philanthropist Joan Kroc and her husband, the irascible founding chairman of the McDonald's corporation. (The two subjects are more connected than you might think…)
Lisa's latest book, Up All Night, has just been released. She's at work on a new one about another slice of American media history, the creation of National Public Radio through the lens of the four "founding mothers" of the network.
She also produces Gracefully, a podcast about everything to do with growing old, including caregiving of elders, aging, and occasional interviews with interesting people who've lived long lives.
A graduate of Hampshire College, Lisa led an award-winning volunteer cooking group at the Downtown Women's Center on Skid Row in Los Angeles for over five years. She's also the founding board president of the Bhutan Media Service, an all-volunteer news outlet created by Bhutanese refugees in diaspora.
Lisa is open to other writing assignments, as well as invitations to speak at festivals and clubs, and/or to swim in marvelous swimming pools.